Mr.DARCY
Liljeskogens Dedicated Hollyhock
født / born : 14.05.2018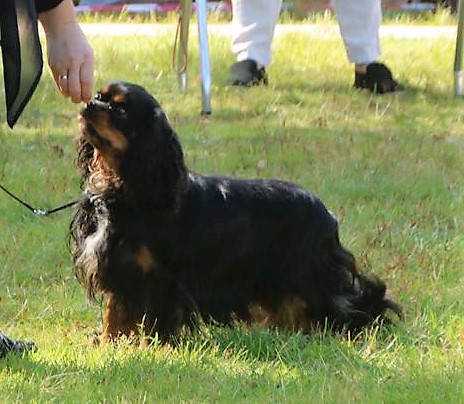 Mr.Darcy 15 mths
Foto: Unni L. Olsen
-----------------------------
Hjerte / Heart: Friskt hjerte 20.05.2020/ Clear heart 20.05.2020
Patella: Free 0/0 Eyes(ECVO): Clear
-----------------------------
Mr.Darcy er den første black/tan-gutten jeg har beholdt fra eget oppdrett. Han er en livlig, men veldig snill og kjærlig guttemann med et herlig ansikt - og vi har blitt veldig glad i denne gutten! Som sin kullsøster, Nadja, er han veldig eventyrlysten, så hvis han kommer ut sammen med søsteren, så er de to over alle hauger før vi får sukk for oss! Darcy er snill og omgjengelig mot både folk og dyr. Foreløpig synes han ikke utstilling er det helt store, men vi får se hvordan det utvikler seg. Han liker å finne på "fantestreker", og han har spist opp halve ørene til Emil og Victor, og fullstendig makulert ørene til Japanesen Ajisai...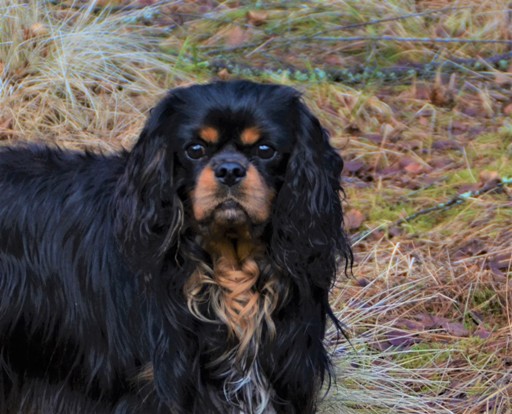 Mr.Darcy 2 år / 2 years
14 mths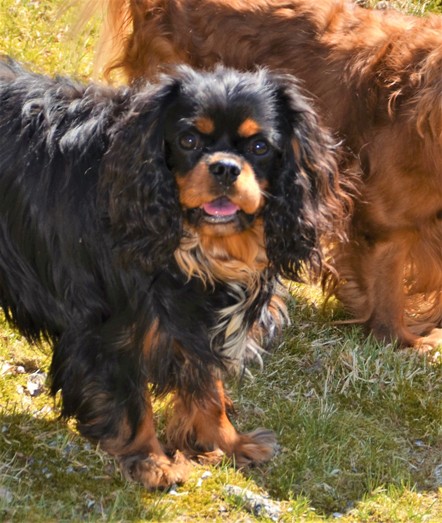 Mr.Darcy ca 1 år / 1 year
| | |
| --- | --- |
| | |
| Mr.Darcy og søsknene 6 uker | Mr.Darcy 7 uker |
-------------------------------------
Darcys foreldre / Darcy's parents
| | |
| --- | --- |
| | |
| Magic Charm's Manhattan (LEO) | Liljeskogens A Scent Of Heather (HETTIE) |
Stamtavle /Pedigree:
Magic Charm's Manhattan

Tri

Clear heart 8 years 9 mths

N UCH Angel's Pride Wicked Wizard Lover Tri

Clear heart 12 years

Timsar Fortune Seeker
Timsar Master Of Ceremonies
Timsar Serendipity
Angel's Pride It's Love Devine
Xtra Arizona Man Of Fairytale Fores
Angel's Pride Love Me Do-Girl
Bonitos Companeros Only You Tri

Clear heart 10 years

Pascavale Tyler
GB CH Pascavale Ryan
Pascavale Rozella
Miletree Nijana
Miletree Nijinski
Miletree Louisiana

Liljeskogens A Scent Of Heather

b/t

Clear heart 5 years

N DK UCH NV-13 Liljeskogens Goldwine King Of Rohan r Clear heart 8,5 years

NORD UCH Anberan Mocha Sanani b/tClear heart 7 years
CH Kimark Coming Home To Sorata r
Anberan Hot Mochachino b/t
NVV-15 Liljeskogens Karisma Kelly

b/t Clear heart 14 years

Salador Channon b/t Clear heart 11,5 years (ble 15 år)
Liljeskogens Classic Camille r Clear heart 5 years 5 mths
Liljeskogens Dream Rose

b/t

Clear heart 5 years

Pringel's Movie Star b/t

Clear heart 5 years

Alberica Makin' Magic r Clear heart 5 years 6 mths

Lemitess Angels Wings b/t Clear heart 6 years 4 mths

Liljeskogens Eminent Eclaire

r Clear heart 7 years

Oward Des Arnuettes r

Liljeskogens Autumn Azalea r Clear heart 8 years 6 mths

= hjerte uten bilyd

= Clear heart
Jeg har ført på hvor lenge jeg vet / har kilder for at forfedrene har vært hjertefriske. Noen har nok vært hjertefriske mye lengre, men jeg har ingen sikre kilder for det. Så dersom noen som leser dette har flere opplysninger, så er jeg veldig takknemlig for å få en mail om det!
I have listed how long I know / have sources that the ancestors have had a clear heart.
Some might have had a clear heart much longer, but I have no sources... So if anyone reading this has more information, I am very grateful to get an e-mail about it!