LACEY
Dansk Veteranvinner-2019
DKVV-19 Liljeskogens Irresistible Rose
Født / born: 09.04.2011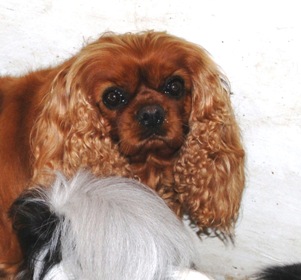 Undersøkt / Tested on:
Hjerte / Heart: Friskt hjerte 18.03.2019 / Clear heart 18.03.2019
Patella: Free 0/0
Øyelyst / Tested on eyes (ECVO)
DNA-testet EF: Fri , CCS: Fri / DNA tested EFS: Clear / CCS: Clear
---------------
Lacey flyttet tilbake til oss i godt voksen alder. Hun var da en rolig og bedagelig dame, men etter å ha slanket seg er hun nå en sprettball som elsker skogsturer, og hun var veldig kry da hun var sprek nok til å hoppe opp i sofaen :) Hun elsker mat, og er en ekspert på å tigge. Da prøver hun å stirre "sitt offer" i senk, og om ikke det nytter, så skraper hun på oss med labben sin. Det mest fantastiske Lacey vet, er å få være med på utstillinger, og etter hun ble slank og fin i pelsen har hun gjort det veldig godt i ringen - og til og med fått 2 CERT og 3 Res.Cert!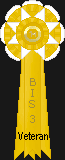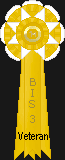 9 x CK , 3 x Res.Cert, 2 x CERT (CC/CAC), 2 x BIR (BOB) Veteran, 3 x BIM (BOS) Veteran & 2 x BIS-3 Veteran på Cavalierutstillinger og Dansk Veteranvinner -2019.
-----------------------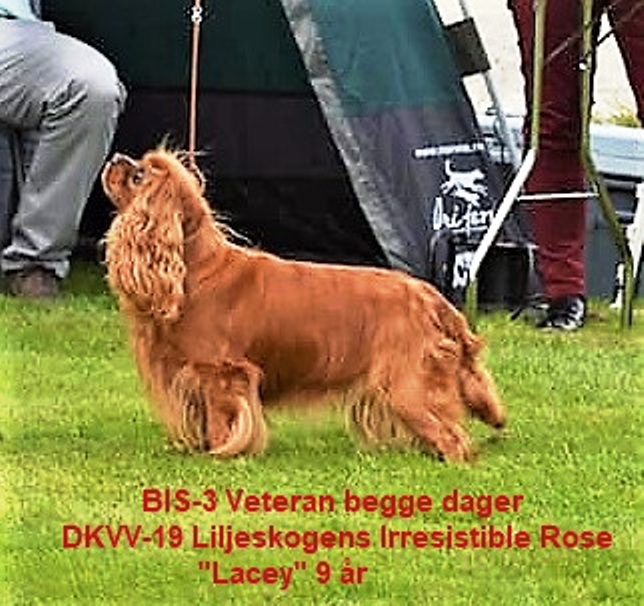 Fra Cavalierutstillingen i Rogaland 25.-26. juli 2020
--------------------------
Dansk Veteranvinner-2019
"Jay" (N DK UCH NW-13 DKVW-19 NVW-19 Liljeskogens Goldwine King Of Rohan & "Lacey" DKVW-19 Liljeskogens Irresistible Rose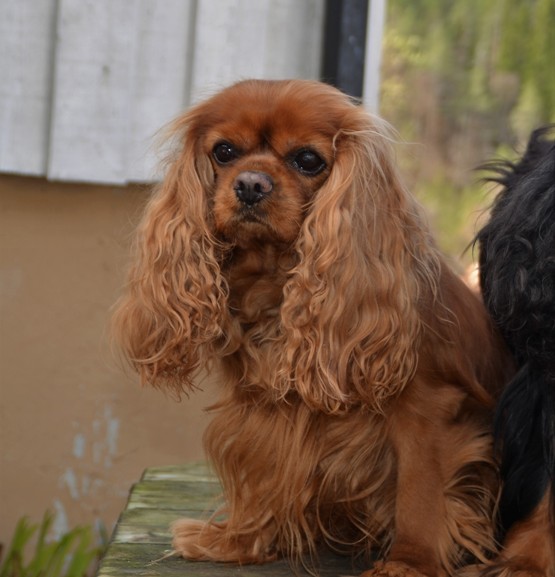 Lacey 8 år
| | | |
| --- | --- | --- |
| | | |
| Lacey 6,5 år | | Lacey nær 6 år |
-------------------------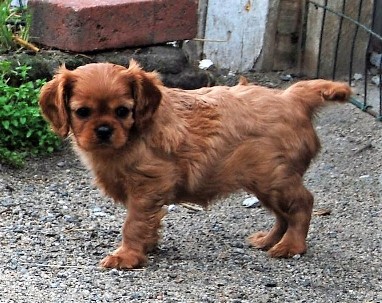 Lacey 7 uker
Laceys foreldre / Lacey's parents:
NORD UCH Anberan Mocha Sanani (Jagger)
LYNNI (Liljeskogens Jubilee Junglequeen)
-----------------------------------
Stamtavle / Pedigree
World Cavalier Show Junior Winner -2008

NORD UCH Anberan Mocha Sanani

b/t

Clear heart 7 years

AM CH Kimark Coming Home To Sorata r
AM CH CAN CH Campanards Mr.Sweden At Vesta ROM r
FIN CH Oak's Edward r Clear heart 10 years
NORD CH Campanards Purple Rose r Clear heart 7 years
Kimark Look Into My Eyes ROM r
Campanards Yesterday r
AM CH Hob Nob Peach Pie b/t

Anberan Hot Mochachino b/t

GB CH Myhope Fever r

GB CH Harana Courtney r
Myhope Follow That Dream b/t
Anberan Hot Chocolate b/t Clear heart 8 years
GB CH Harana To Darn Hot r
Anberan Indigo Lucky b/t

Liljeskogens

Jubilee

Junglequeen b/t

Clear heart 5 years 4 mths

Fuzzyheimen's Black Prince b/t

Clear heart 7 years

Delhaze Skywalker bl

GB CH Storm Trooper By Delhaze

Delhaze Crystal Rose

Cacipi's Wonderful Mayflower b/t

Clear heart 7 years

Chacombe Nelson r

Clear heart 12 years

N UCH Cacipi's Marcilla b/t

Clear heart 7 years

Liljeskogens Autumn Amaryllis r

Clear heart 7 years 4 mths

Tibama's Impulsive Infanto r Clear heart 7 years 10 mths

Harana Ain't Misbehavin' b/t

Clear heart 9 years

N S UCH Tibama's Adorable Alice r

Clear heart 6 years 10 mths

Atti's Candy Sweet As Sugar r

Clear heart 10 years

Nocturnes Iglesias b/t

Clear heart 8 years

Atti's Marita Super Madame b/t

Clear heart 8 years 3 mths

= hjerte uten bilyd

= Clear heart
Jeg har ført på hvor lenge jeg vet / har kilder for at forfedrene har vært hjertefriske. Noen har nok vært hjertefriske mye lengre, men jeg har ingen sikre kilder for det. Så dersom noen som leser dette har flere opplysninger, så er jeg veldig takknemlig for å få en mail om det!
I have listed how long I know / have sources that the ancestors have had a clear heart.
Some might have had a clear heart much longer, but I have no sources... So if anyone reading this has more information, I am very grateful to get an e-mail about it!