LINNEA
Fuzzyheimen's Dancing Linnea
19.07.2005 - 11.06.2016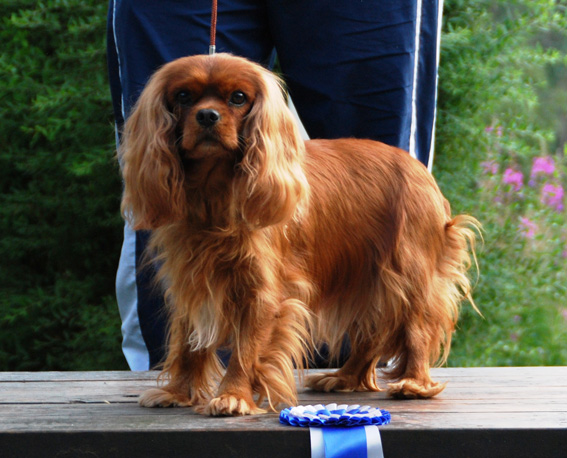 Linnea 8 år og BIS- 2 Veteran (NCk) / 8 years & BIS-2 Veteran (NCk) on this picture
Hjerte / Heart: Friskt hjerte 10.08.2012 / Clear heart 10.08.2012 7 years old
Patella: Free 0/0
Øyelyst + DNA-testet EF/CCS + MR-scannet
Tested on eyes + DNA tested EF/CCS + MRI scan
Linnea er en veldig intelligent jente. Hun åpner bur så lett som bare det, og da hun var valp ødela hun mye.., - og tygget opp ørene til de andre cavalierene... Men nå har hun vokst opp til å bli ei snill jente, som ikke ødelegger noe mer! J Linnea ble en gang veldig skremt i utstillingsringen, så vi har arbeidet ganske mye med det - men nå synes hun utstilling er OK igjen! Linnea er en svært leken liten jente!

Linnea is a very intelligent girl. She opens cages as easy as nothing, and when she was a puppy she destroyed a lot.., - and chewed up the ears of the other cavaliers... But she has grown up to be a nice girl, and she doesn't destroy anything now! J Once she got very scared in the showring, so we have worked quite a lot to deal with that, but now she thinks show is OK. Linnea is a very playful little girl!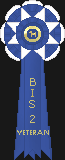 x 6
1 x Best in Show-2 Veteran, 2 x BIM (BOS) Veteran, 1 x Res. Cert (Res.CC), 9 x CK, 6 x HP
Linnea 3 år / 3 years Photo by Ken Hardy
------------------------------------
3 år / 3 years
8 mnd / 8 mths
-----------------------------------
7 uker / 7 weeks Photo by Rose L. Jonassen
Linneas foreldre / Linnea's parents :
TEDDY (Jørsi's Fintifarta) Veldig ung på dette bildet, men jeg har ikke noe annet... /

Very young on this picture, but this is the only one I have got...

RONJA (Cacipi's Wonderful Mayflower)
Jørsi's Fintifarta

r

N DK CH NV-05-06 Ricksbury Royal Crusander bl Clear heart 5 year 5 mths
GB CH Ricksbury Tommy bl Clear heart 9 year 8 mths
Linjato Ace Of Base bl
Ricksbury Royal Captive Of Crossbow bl
GB CH Ricksbury Royal Temptress bl Clear heart 11 year 8 mths
GB CH Lymrey Royal Scandal At Ricksbury bl Clear heart 6 year 11 mth
Pembridge Smooth 'n Sharp 'Ricksbury bl
Jørsi's Faith r Clear heart 13 years
S UCH Immenhof's Summa Cum Laude r Clear heart 11 year 11 mths
INT D VDH UCH Bonema Gold Sovereign For Choya r
D UCH Royal Companion Gold For Immenhof r
Rybergets Francesca r
N S UCH Sorata Frank Clear heart 6 years
Delhaze Belinda bl
Cacipi's Wonderful Mayflower

b/t

Clear heart 7 years

Chacombe Nelson r Clear heart 13 years
Paltemoor Lord Charles b/t
Downsbank King Cole Of Chacombe
Chacombe Sadie Of Owencurra
Chacombe Nina Ricci r
Harana Calvin Klein
Chacombe Drusilla
N UCH Cacipi's Marcilla b/t Clear heart 7 years
Rheinvelt Red Shadow r
GB CH Fontelania Dancing Brave
GB CH Rheinvelt Red Hot
Cacipi's Graciela b/t
Rheinvelt Rob Roy
Cacipi's Beatrice

= hjerte uten bilyd

= Clear heart
Jeg har ført på hvor lenge jeg vet / har kilder for at forfedrene har vært hjertefriske. Noen har nok vært hjertefriske mye lengre, men jeg har ingen sikre kilder for det. Så dersom noen som leser dette har flere opplysninger, så er jeg veldig takknemlig for å få en mail om det!
I have listed how long I know / have sources that the ancestors have had a clear heart. Some might have had a clear heart much longer, but I have no sources... So if anyone reading this has more information, I am very grateful to get an e-mail about it!