OUR STORY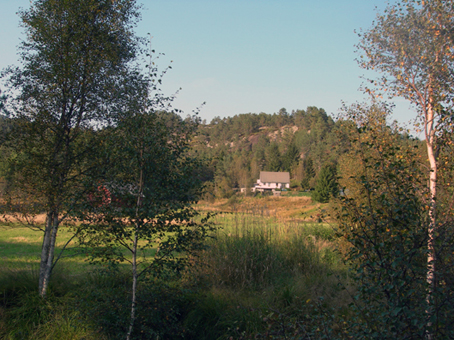 I have always loved animals. While growing up, my friends used to look after babies to earn some pocket-money. I used to look after dogs! All kind of dogs, from Poodles and Afghan Hounds to Siberian Huskies.... I also was horse-mad, and took riding lessons. I used to take home a lot of "homeless" cats (even though my mother was allergic!). I started breeding budgerigars when I was 13 years old, and I studied their genetics very thorough, trying to get the right colours!
When I was 16, I got my first dog, Bacio, a big, black Labrador Retriever.

Some years later, when my houseband and I had built our new house on his farm, my parents wanted to buy us a present. We could choose between a dishwasher or a puppy...Guess what we did choose! A few weeks later, Toya, a beautiful little Golden Retriever puppy moved into our house.

When Toya died, 10 years old, we ordered a Leonbergerpuppy. But it took almost a year before the breeder had a puppy for us, so in the meantime our daughter got another Golden Retriever, Toya II. Two months later the Leonbergerpuppy -Anya- finally arrived, and these two puppies didn't give us much time to rest!

In 1999 we were looking for a smaller dog for our son. We studied thorough a lot of dogbooks, and decided to get a ruby Cavalier King Charles Spaniel. After some searching we finally got our beautiful little Candy from Atti's Kennel. Her full name is "Atti's Candy Sweet As Sugar", and that certainly is a name that fits! We realized that everything nice said about this breed absolutely is true! Cavaliers must be the most adorable dogs in the world! In May - 2001 we got another ruby, Dina, from Kennel Tibama. Candy became mother of our first litter in November-2001, and then my "Breeder-instinct" was revived! We kept two ruby bitches from this litter, Ryllis and Sally. In February-2003 we bought our first black & tan, Carmen, from Kennel Tibama. I think we'll concentrate on these two colours, ruby and black & tan. Of course we also find blenheims and tricolours adorable, but wholecolours are our favourites, so we'll take that challenge!

We live in Kvinesdal in Vest-Agder, the southernmost county of Norway. We have called our Kennel: "Liljeskogen", because we live close to the forest, and in the summertime we have a lot of lilies in the garden!

Of course, all our dogs live together with us inside the house, - and sleep on our sofas!!!
Once or twice a day, we take all the dogs for a little trip in the forest. The forest is right outside our door, so we let the dogs run free, and they have a lot of fun!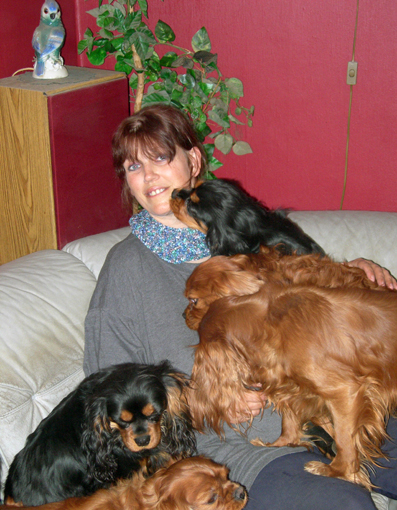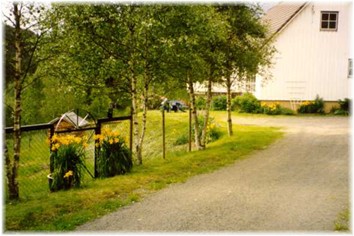 In December-2008, a new breed came into our lives: Japanese Chin. I had dreamed about this breed for years, and finally I was lucky and got little Aimi (Sleepyhollow Aimi Amantra) from England. She is absolutely fabulous! She has the same happy temperament as the Cavaliers, and she has also been doing very well in the Showring. She is a Norwegian Champion, Norwegian Winner -2012, Nordic Veteran Winner - 2016, Norwegian Veteran Winner 2016 & 2017.
In February 2010 Aimi had her first - and only - litter. 3 lovely puppies. Unfortunately we lost one boy at an age of 3 weeks, and twe lost he beautiful little puppy girl "Blomst" at an age of 7 weeks... But the last puppy, Ajisai, grow to be a very nice young man, and he became Norwegian Junior Winner in 2011, and later Norwegian Champion.
| | | |
| --- | --- | --- |
| | | |
| Japanese Chin: Sleepyhollow Aimi Amantra | | Aimi og Hannah |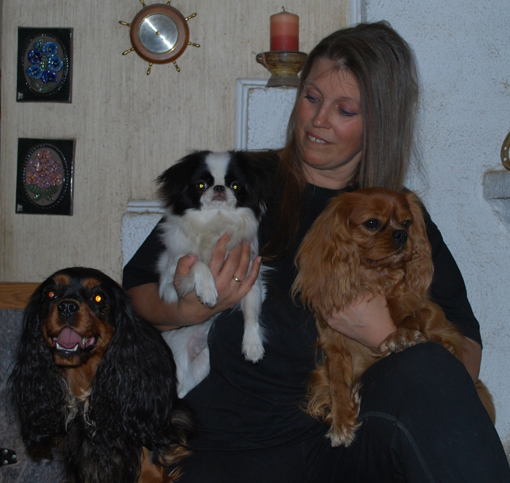 Kelly, Aimi, me(Eva) and La Paz