ROSIE
Liljeskogens Fabulous Fairyrose
født / born: 12.09.2004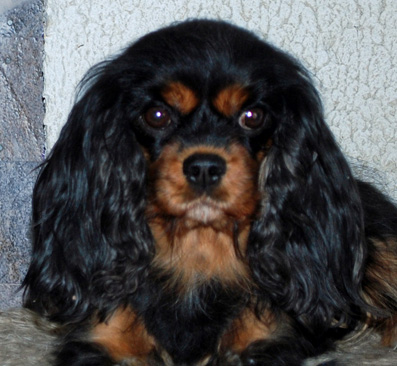 Rosie 5 år på bildet / 5 years on this picture
Undersøkt / Tested on:

Hjerte / Heart: Friskt hjerte 24.09.2010 / Clear heart 24.09.2010
Øyne/ Eyes: U.a / Clear
Patella: Free 0/0
Testet for Syringomyelia (MRI): 21.03.2009 Code A (0,0 mm) Mer info om koder HER
Rosie er Liljeskogens førstefødte black & tan! Hun er svært atletisk, og elsker å hoppe over gjerder. Hun har vært slik helt siden hun var valp; da fant vi henne vanligvis på toppen av kjøkkenbordet!
Rosie liker ikke å stå opp tidlig om morgenen, så vi lar henne vanligvis få sove en time ekstra!
Rosie må være en av de mest sosiale hunder som finnes; hun elsker alle. Når vi får besøk - uansett av hvem - så stormer hun forbi de andre hundene, og hopper opp på gjestens fang, og slenger labbene rundt halsen på dem J Rosie bor nå hos min venninne Ellen på kennel Cemilie

Rosie is Liljeskogens firstborn black and tan! She is an athlet,who loves to jump over fences... She has been like that ever since she was a little puppy; then we usually found her on the top of the kitchen table! Rosie doesn't like to get up early in the morning, so we usually let her sleep an hour more that the rest!
Rosie must be one of the most social dogs that exist; she loves everybody. When visitors come to us - no matter who -, Rosie is jumping straight into their lap, and throws her paws around their neck J Rosie lives now with my friend Ellen at kennel Cemilie.


-------------------------------------------
Rosie 2 år og 5 mnd / 2 years 5.mths

18 måneder / 18 mths
| | | |
| --- | --- | --- |
| | | |
| 15 uker / 15 weeks | 11 uker / 11 weeks | 5 uker / 5 weeks |
--------------------------------------
Rosies foreldre / Rosie's Parents:
| | | |
| --- | --- | --- |
| | | |
| ODIN (N S UCH Tibama's Spring Joy) | Resultat: 4 valper / Result: 4 puppies | CANDY (Atti's Candy Sweet As Sugar) |
Stamtavle / Pedigree
N S UCH

Tibama's Spring Joy

b/t

Tatanja's Joshua

tri 7 years

CH Stonehill's Zacharias bl

Stonehill's Silvester

Stonehill's Wild Fame

Int Uch Schw It Uch Tatanja's Peace Rose tri 12 years

N S INT HOLL LUX CH Thomas Lamslag de Norlys tri
Stonehill's Susannah bl

N S Uch Tibama's Adorable Alice r 6 years 10 mths

N Uch Javita Royal Gesture of Deltika bl

GB CH Cherokee Of Rossbonny At Delhaze bl
Victoriana Of McGoogans At Javita
Rybergets Jewel b/t 7 years 8 mths

N S UCH Sorata Frank r 6 years

Sorata Rosetta b/t

Atti's Candy Sweet As Sugar

ruby

10 years

Nocturnes Iglesias

b/t 8 years

Nocturnes Kontrabas b/t 11 years

Craigowl Cadbury r 9 years
Ouverture's Anna Karenina tri 10 years

Immenhof's Song Of Joy r 6 years

INT UCH TY CH VDH CH Bonema Gold Souvereign For Choya

CH Royal Companion Gold For Immenhof r

Atti's Marita Super Madame b/t 8 years 3 mths

Rybergets David Freetain b/t

N S INT HOLL LUX CH Thomas Lamslag de Norlys tri
Brummens Gloria r

Engeråsen's Daniella r 8 years

Sorata Danny Boy r
Alndyke Annie Laurie r
Jeg har ført på hvor lenge jeg vet / har kilder for at forfedrene har vært hjertefriske. Noen har nok vært hjertefriske mye lengre, men jeg har ingen sikre kilder for det. Så dersom noen som leser dette har flere opplysninger, så er jeg veldig takknemlig for å få en mail om det!
I have listed how long I know / have sources that the ancestors have had a clear heart.
Some might have had a clear heart much longer, but I have no sources... So if anyone reading this has more information, I am very grateful to get an e-mail about it!