SHANTI
Liljeskogens Classic Camille
født / born: 10.08.2003
Shanti bor hos min venninne, Gunn Severinsen
Shanti lives with my friend Gunn Severinsen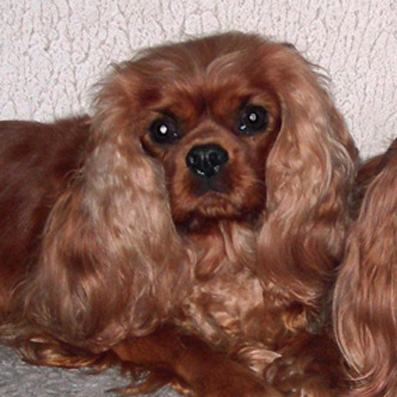 Shanti 4 år på bildet / 4 years on this picture
Tested on:
Hjerte / Heart
Øyne/ Eyes
Patella
Shanti er en kjærlig og intens jente. Hun bodde som ene-hund i en familie til hun var voksen, så da jeg kjøpte henne tilbake klarte hun aldri å venne seg til tilværelsen sammen med mange andre cavalierer. Hun ble veldig stresset. Så nå eies hun sammen med min venninne Gunn, og bor hos henne. Shanti blir behandlet som en prinsesse - og hun nyter det! Mine jenter har ikke mer enn max 4 valpekull, og det har Shanti hatt, så nå nyter hun livet hos Gunn i Søgne :)
Shanti er stolt mor til mestvinnende Rubytispe i Norge i 2008: N S UCH Liljeskogens Karisma Kamilia og hennes kullsøster Liljeskogens Karisma Kelly som har 2 Cert.

Shanti is a loving and intens girl. She lived in a family where she was the only dog until she was a grown-up, so when I bought her back, she never managed to live with my big bunch of cavaliers. She got very stressed. So now she is co-owned with my friend Gunn, and lives with her. She is treated like a princess - and she loves it! I never let my girls have more than maximum 4 litters, so Shanti has now finished her maternal duties, and enjoys her peaceful life together with Gunn and her family in Søgne :)
Shanti is proud mother to Mostwinning Ruby bitch in Norway 2008: Norw.and Sw. CH Liljeskogens Karisma Kamilia and Liljeskogens Karisma Kelly who has 2 x CC.
3 år / 3 years
----------------------------------------
1 år / 1 year

1 år / 1 year
Shantis foreldre / Shanti's parents:
MICKEY (N S UCH Tibama's Mickey Mouse)

DINA (Tibama's Royal Emerald)
Stamtavle / Pedigree
N S UCH Tibama's

Mickey Mouse

ruby

INT N S UCH

Sorata Julius r

GB CH Sorata Dunross r
Sorata Llewelyn
Sorata Rose
Galetamar Francesca r
Russmic Superstition
Russmic Harriet Of Galetamar
N S UCH Tibama's

Adorable Alice r

N UCH Javita Royal

Gesture Of Deltika blen

GB CH Cherokee Of Rossbonny At Delhaze
Victoriana Of McGoogans At Javita
Rybergets Jewel b/t
N S UCH Sorata Frank r
Sorata Rosetta b/t
Tibama's Royal

Emerald

ruby

N UCH Tibama's Christmas

Royal Highness r

N UCH Homerbrent Perry r
Homerbrent Paprika Of Clovisca
Homerbrent Olivia
Tibama's Impressive Isofleurina r
Harana Ain't Misbehavin' b/t
N S UCH Tibama's Adorable Alice r
Tibama's Black Nille
Tibama's Black Baron b/t
Harana Ain't Misbehavin' b/t
Rybergets Jewel b/t
Tibama's Black Diamond b/t
Lewisisle Highland Norsman b/t
Aqua Marine Of Homerbrent tri