TIRIL
Liljeskogens Lady Of The Wood
Født / born: 07.01.2012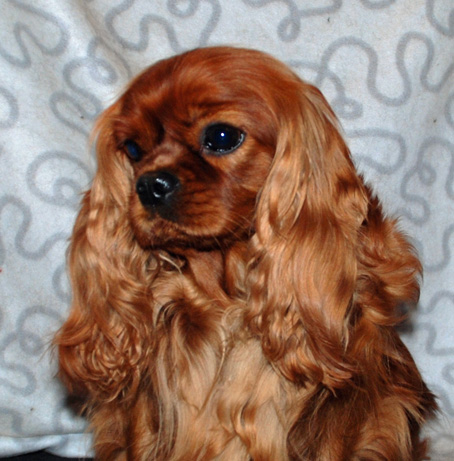 4 years old on this photo / 4 år på dette bildet
-------------------------------
Undersøkt / Tested on:

Hjerte / Heart: Friskt hjerte 21.01.2020 (8 år) / Clear heart 21.01.2020 (8 years)
Tested on Patella (Free 0/0) & eyes (øyelyst)
EF/CCS: FRI siden begge foreldre er FRI / EF/CCS: CLEAR (as both parents are CLEAR)
Tiril er ei tøff jente, som har arvet sin mor Linneas evne til å åpne dører og komme seg ut av bur... Hun og Cherry er uadskillelige, selv om de ofte småkrangler. Tiril tror det er hennes oppgave å sette Cherry på plass når hun har gjort noe ulovlig :) Hun blir veldig fornærmet dersom vi kjører avsted på utstilling uten henne, da lager hun et veldig spetakkel, for da skal hun absolutt være med i bilen. Men selve utstillingen synes hun er helt pyton.... Hun er som sin mor, Linnea, veldig glad i mat, og veldig oppfinnsom når det gjelder å finne, eller stjele andres mat, så det gjelder å være på vakt :)

Tiril has inherited her mom Linnea's ability to open doors and get out of the cage ... She and Cherry are inseparable, although they often have small quarrels. Tiril think it is her task to rebuke Cherry when she has done something wrong :) Tiril gets really offended if we drive off to Dog shows without her, and she makes a big fuss, because then she absolutely will join us in the car! Tiril is like her mother, Linnea; she loves food, and is very, very inventive when it comes to finding - or stealing - the food of the other dogs. Or even the food that belong to us two-legged, so you have to be on guard :)









7 x CK (CQ= Champion Quality), 1 X Res. Cert (Res.CC)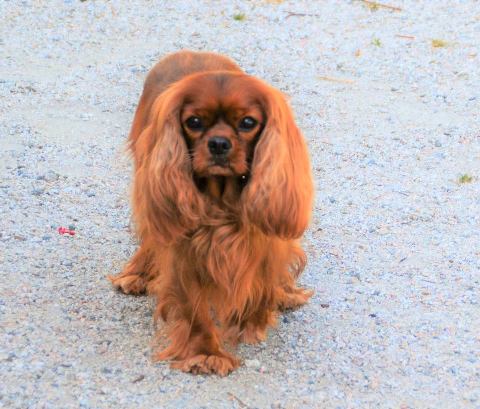 Tiril 6,5 år
| | |
| --- | --- |
| | |
| Tiril (5,5 år) og fortsatt leken :) | Tiril 5 years 8 mths |
| | |
| --- | --- |
| | |
| Tiril (2 år) i dyp snø / Tiril in deep snow :) 2 years old | Halvsøstrene Susie (8 år) og Tiril (5,5 år) |
------------------------------
| | | |
| --- | --- | --- |
| | | |
| 9 weeks / 9 uker | | Tiril 6 mths |
Tirils foreldre / Tiril's parents:
| | | |
| --- | --- | --- |
| | | |
| JAY (N UCH Liljeskogens Goldwine King Of Rohan) | | LINNEA (Fuzzyheimen's Dancing Linnea) |
Stamtavle/ pedigree:
Norw CH DKCH NW-13 Liljeskogens Goldwine King Of Rohan

ruby

Clear heart 8,5 years

NORD CH Anberan Mocha Sanani b/t Clear heart 7 years
AM CH Kimark Coming Home To Sorata r
AM CH CAN CH Campanards Mr.Sweden At Vesta ROM r
Kimark Look Into My Eyes ROM r
Anberan Hot Mochachino b/t
GB CH Myhope Fever r
Anberan Hot Chocolate b/t Clear heart 11 years
NVW-15 Liljeskogens Karisma Kelly

b/t

Clear heart 14 years

Salador Channon b/t Clear heart 11,5 years
Salador Celtino b/t Clear heart 8 years
Salador Cassy r Clear heart 6 years
Liljeskogens Classic Camille r Clear heart 5 years 5 mths
N S UCH Tibama's Mickey Mouse r Clear heart 7 years 9 mths
Tibama's Royal Emerald r b/Clear heart 7 yearst
Fuzzyheimen's Dancing Linnea

ruby

Clear heart 7 years

Jørsi's Fintifarta

r

N DK UCH NV-05-06 Ricksbury Royal Crusader bl 5 year 5 mths
GBGB CH Ricksbury Tommy bl Clear heart 9 years 8 mths
GB CH Ricksbury Royal Temptress bl
Jørsi's Faith r Clear heart 13 years
S UCH Immenhof's Summa Cum Laude r Clear heart 11 year 11 mths
Ryberget's Francesca r
Cacipi's Wonderful Mayflower b/t Clear heart 7 years
Chacombe Nelson r Clear heart 13 years
Paltemoor Lord Charles b/t
Chacombe Nina Ricci r
N UCH Cacipi's Marcilla b/t Clear heart 7 years
Rheinvelt Red Shadow r
Cacipi's Graciela b/t

= hjerte uten bilyd

= Clear heart
Jeg har ført på hvor lenge jeg vet / har kilder for at forfedrene har vært hjertefriske. Noen har nok vært hjertefriske mye lengre, men jeg har ingen sikre kilder for det. Så dersom noen som leser dette har flere opplysninger, så er jeg veldig takknemlig for å få en mail om det!
I have listed how long I know / have sources that the ancestors have had a clear heart.
Some might have had a clear heart much longer, but I have no sources... So if anyone reading this has more information, I am very grateful to get an e-mail about it!