BAMSE
Norsk Champion
Norw CH Liljeskogens Be My Bamboo
Født / born: 20.07.2016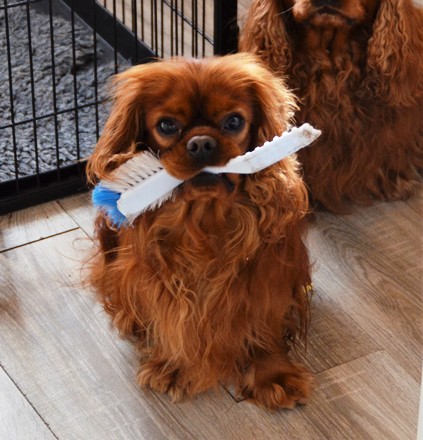 2 år på dette bildet / 2 years on this picture
Undersøkt / Tested on:
Hjerte / Heart: Friskt hjerte 23.10.2020 / Clear heart 23.10.2020
Tested on Patella (Free 0/0) & eyes (ECVO)
DNA-testet EF: Bærer , CCS: Fri / DNA tested EFS: Carrier/ CCS: Clear
Bamse er en kjekk og livlig gutt, som raskt ble en av sjefene i gutteflokken. Han hopper og danser i utstilingsringen, til matmors store fortvilelse, men han har nå likevel klart å bli Norsk utstillings-Champion. Han liker å bære på saker og ting - og så snart han ser at jeg bærer ut bur eller andre utstillingsting i bilen - blir han helt på styr - for da VIL han være med :) Kjempemoro å være med matmor på utstilling (selv om hun sukker og stønner over at han ikke klarer å gå pent og rolig.. ;) ) Bamse er en av kjøkkengutta mine, og han prøver iblant å overbevise Jay om at hans tid som sjef er over, men det er ikke Jay helt enig i :)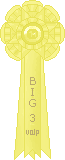 x 20
BOB puppy, BIG-3 Puppy, 3 x BIR (BOB). 1 x BIM (BOS) 20 x CK, 2 x Res.Cert (Res. StorCert) 4 x Cert (CC/CAC) + 1 x NORDIC CERT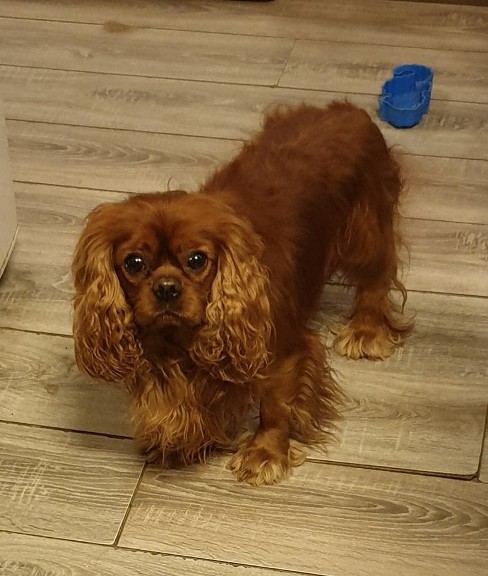 Bamse 4 år / Bamse 4 years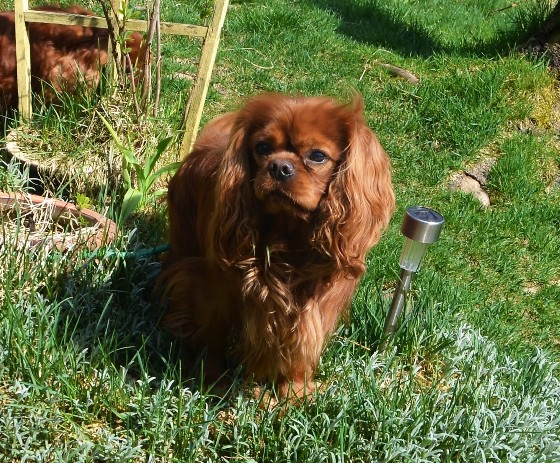 Bamse 3 år / 3 years
Bamse ble BIR og BIG3-valp på NMHKs utstilling i Rogaland 09.04.2017
| | |
| --- | --- |
| | |
| Bamse BIG-3 valp 8 måneder | Bamse 10 måneder / 10 mths |
| | | |
| --- | --- | --- |
| | | |
| Liljeskogens Be My Bamboo ble NY NORSK CHAMPION på Moss Hundeklubbs utstilling i Råde 28.07.2018 | Bamse smiler. Sommer 2018 | Bamse 2 år |
Bamse (1 år) studerer en flue :)
Bamse ca 2 år / 2 years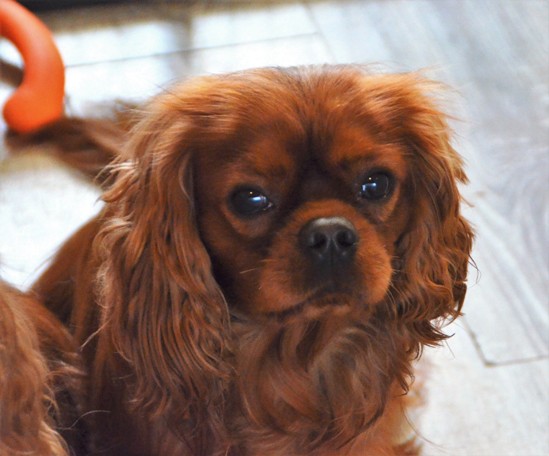 Bamse 14 mths
----------------
Bamses foreldre / Bamse's parents:
Stamtavle/ pedigree:
World Cavalier Show Junior Winner-2008

NORD UCH Anberan Mocha Sanani

b/t Clear heart 7 years

AM CH Kimark Coming Home To Sorata r
AM CH CAN CH Campanards Mr.Sweden At Vesta ROM r
FIN CH Oak's Edward r Clear heart 10 years
NORD CH Campanards Purple Rose r Clear heart 7 years
Kimark Look Into My Eyes ROM r
Campanards Yesterday r
AM CH Hob Nob Peach Pie b/t
Anberan Hot Mochachino b/t
GB CH Myhope Fever r
GB CH Harana Courtney r
Myhope Follow That Dream b/t
Anberan Hot Chocolate b/t Clear heart 11 years
GB CH Harana To Darn Hot r
Anberan Indigo Lucky b/t
Liljeskogens Johnie's Red Rose

Clear heart 6 years

N UCH Sorata Johnie Red r
Russmic Reggea Music At Sorata b/t
Sorata Bob Marley r
Russmic Dolores b/t
GB CH Campanards Triple Rose At Sorata r
SE UCH Cequence Fontana r Clear heart 8 years
SE UCH Campanards Magic Rose r Clear heart 5 years
Norsk Veteranvinner2015 Liljeskogens Karisma Kelly b/t

3 Cert/CC Clear heart 14 years

Salador Channon

b/t 1 Cert/CC Clear heart 11,5 years (Ble 15 år)

Salador Celtino b/t Clear heart 8 years
Salador Cassy r Clear heart 6 years
Liljeskogens Classic Camille r

Clear heart 5 years 5 mths

N S UCH Tibama's Mickey Mouse r Clear heart 7 years 9 mths

Tibama's Royal Emerald r Clear heart 7 years

betyr hjerte uten bilyd

= Clear heart
Jeg har ført på hvor lenge jeg vet / har kilder for at forfedrene har vært hjertefriske. Noen har nok vært hjertefriske mye lengre, men jeg har ingen sikre kilder for det. Så dersom noen som leser dette har flere opplysninger, så er jeg veldig takknemlig for å få en mail om det!
I have listed how long I know / have sources that the ancestors have had a clear heart.
Some might have had a clear heart much longer, but I have no sources... So if anyone reading this has more information, I am very grateful to get an e-mail about it!