CHERRY
Liljeskogens Johnie's Red Rose
Født / born: 31.12.2011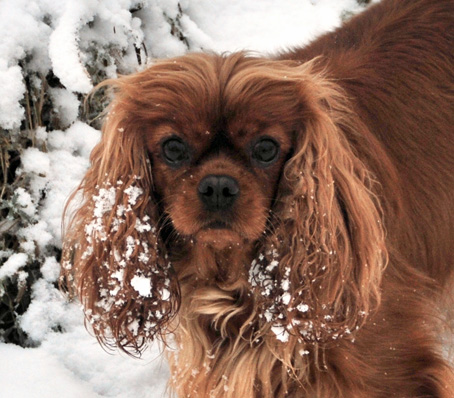 Nesten 4 år på dette bildet / Almost 4 years on this picture
-------------------------
Undersøkt / Tested on:

Hjerte / Heart: Friskt hjerte 22.01.2018 / Clear heart 22.01.2018
Tested on Patella (Free 0/0) & eyes (øyelyst)
EF/CCS: FRI siden begge foreldre er FRI / EF/CCS: CLEAR (as both parents are CLEAR)
Cherry er en samler! Hun samler på baller, bamser, steiner, og igrunnen alt hun finner. Og hun passer godt på samlingene sine. Har hun satt seg noe i hodet - og det har hun ofte -, så er det ingen grenser for hva hun klarer, f.eks når det gjelder å komme over høye gjerder, eller inn i den avstengte garasjen - for hun vet at pus befinner seg der inne... Utstilling synes hun derimot er noe herk, og har det veldig travelt med å komme seg ut av ringen! Cherry og Tiril er uadskillelige, de småkrangler om det meste, men er veldig gode venninner.

Cherry is a collector! She collects balls, teddy bears, pebbles, and in essence everything she finds. And she guards well on her collections. If she has decided something - and she often has - there is no limits on what she can do... For instance when it comes to getting over high fences or into the closed garage - because she knows that our cat is located there ... Dog Shows, however, is a bother in her opinion, and she can't get soon enough out of the ring!
Cherry and Tiril are inseparable, the have small quarrels about almost everything, but are very good friends.
---------------------------


BOB puppy + CK
Cherry 6 år
Cherry 5 år + 8 mnd / 5 years + 8 mths old
ilj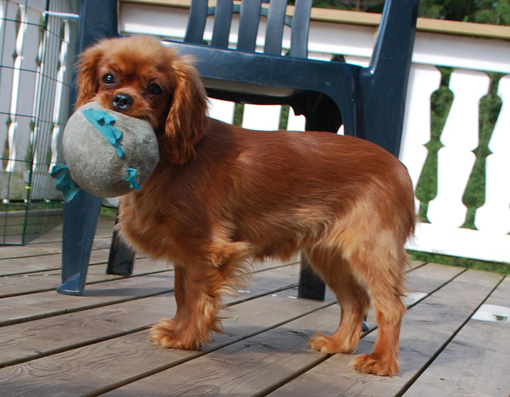 Cherrys foreldre / Cherry's parents:
N UCH Sorata Johnie Red (Johnie)

NVV-15 Liljeskogens Karisma Kelly (Kelly)
s 31.12.2011
Stamtavle/ pedigree:
N UCH

Sorata Johnie Red

r

Clear heart 4 years 3 mths

Russmic Reggea Music At Sorata b/t
Sorata Bob Marley r
Campanards Tribute To Sorata r
Sorata Tizzy May r
Russmic Dolores b/t
Leelyn Major League r
Belfus Angelena Ballerina At Russmic b/t
GB CH Campanards Triple Rose At Sorata r
S UCH Cequence Fontana r Clear heart 8 years
Axhill's Unusual Diamond Lord r Clear heart 5 years
Cequence C'est la Vie r Clear heart 7,7 years
S UCH Campanards Magic Rose r Clear heart 5 years
FIN CH Oak's Edward r Clear heart 10 years
NORD CH Campanards Purple Rose r Clear heart 7 years
Norsk Veteranvinner 2015

NVV-15 Liljeskogens

Karisma Kelly

b/t

Clear heart 14 years

Salador Channon

b/t Clear heart 11,5 years (Ble 15 år)

Salador Celtino b/t Clear heart 8 years
Salador Comet bl Clear heart 10 years 6 mths
Salador Chantilly Belle b/t Clear heart 9 years
Salador Cassy r Clear heart 6 years
Chamanic Shannon r (Ble 17 år)
Salador Chantilly Belle b/t Clear heart 9 years
Liljeskogens Classic Camille r

Clear heart 5 years 5 mths

N S UCH Tibama's Mickey Mouse r Clear heart 7 years 9 mths

INT N S UCH Sorata Julius r Clear heart 9 years
N S UCH Tibama's Adorable Alice r Clear heart 6 years 10 mths

Tibama's Royal Emerald r

Clear heart 7 years

N UCH Tibama's Christmas Royal Highness r Clear heart 7 years

Tibama's Black Nille b/t