CANDY
Atti's Candy Sweet As Sugar
27.02.1999 - 24.02.2012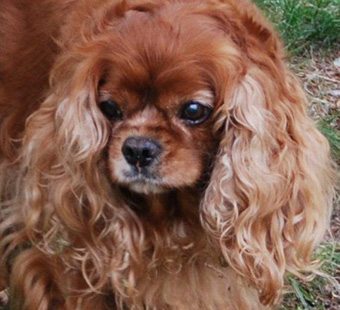 Nesten 13 år på dette bildet / Almost 13 years on this photo
Friskt hjerte 10 år gammel! Clear heart 10 years old!
Tested on:

Clear heart 12.03.2009 (10 years old) / Friskt hjerte 12.03.2009 (10 år gammel)
Øyne/ Eyes: U.a / Clear
Patella: Free 0/0
Candy er vår aller første Cavalier, og hun elsker å sitte i fanget. Hun hopper opp i alles fang - enten de liker hunder eller ikke -, men hvem kan vel motstå denne lille teddybjørnen??? Utendørs er hun en livlig liten skapning, og når hun ser en fugl er det ingen tvil om at hun er en ekte SPANIEL!!! Candy har alltid vært en svært omsorgsfull mamma, og tar seg gjerne av andres valper også. Hun trives godt med å ha sine barnebarn og oldebarn rundt seg.

Candy is our very first Cavalier. She loves to cuddle and sit on someone's lap. If mum's lap isn't available, she jumps into the nearest lap - whether the owner likes dogs or not -, but who can resist this little teddybear??? Outdoors she is a lively little creature. When she sees a bird, there is no doubt that she is a real SPANEL!!!
Candy has always been a very loving mother, and she gladly takes care of others puppies too. She loves to take care of her grandchildren and great-grandchildren.
------------------------------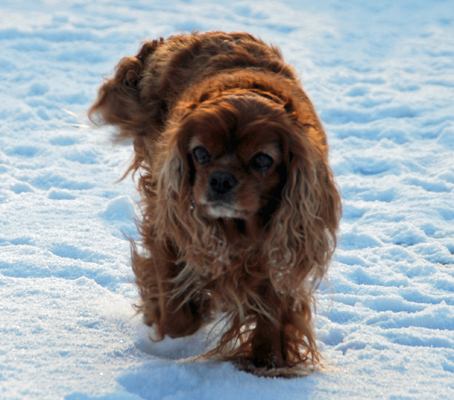 12 år på dette bildet / 12 years on this picture
Candy nær 10 år på sin daglige skogstur /

Candy almost 10 years on her daily trip in the woods

Candy 11 år og 2 mnd finner fortsatt noe spennende å spise i skogen :)

Candy 11 years + 2 mths does still find something interesting to eat in the woods :)
-----------------------------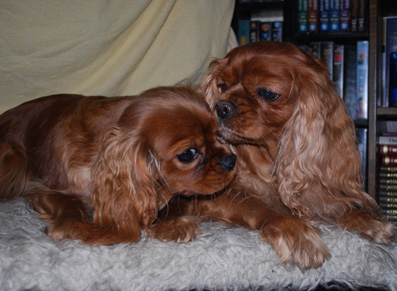 Candy nær 10 år med oldebarnet Helena / Candy almost 10 years with her great-grand daughter, Helena
-------------------------------
Candys første kull i 2001: Amaryllis, Azalea & Adonis. Det aller første kullet i Liljeskogen /

Candy's first litter in 2001: Amaryllis, Azalea & Adonis. The very first litter in Liljeskogen

7 år senere: Fra venstre: Sally (Azalea), mor Candy og Ryllis (Amaryllis)

7 years later: From the left: Sally (Azalea), mother Candy og Ryllis (Amaryllis)
---------------------------------------
Stamtavle / Pedigree
Nocturnes

Iglesias

b/t

Clear heart 8 years

Nocturnes

Kontrabas b/t

Clear heart 11 years

Craigowl Cadbury r

Clear heart 9 years

Leelyn Chagarl r

Craigowl Alice b/t

Ouverture's Anna Karenina triClear heart 10 years

N S UCH INT Holl Lux CH

Thomas Lamslag de Norlys tri

Nocturnes Surprise blen

Immenhof's Song

Of Joy r

Clear heart 6 years

INT CH TY CH VDH CH Bonema Gold Sovereign For Choya r

Choya Red Emblem r

Bonema Have Faith In Me b/t

CH Royal Companion Gold for Immenhof r

Holl CH Gleaming Gold Of Worth r

Judyland Lillibeth b/t

Atti's Marita

Super Madame

b/t Clear heart 8 years 3 mths

Rybergets David

Freetain b/t

N S UCH INT HOLL LUX

CH Thomas Lamslag de Norlys tri

INT CH Fr CH Sorata James

Holl CH Wanejko VD Hoge Bauk

Brummens Gloria r

High Black King

Leading Swedish Ant

Engeråsen's Daniella r Clear heart 8 years

Sorata Danny Boy r

Sorata Llewellyn r

Sorata Rose

Alndyke Annie Laurie r

Chamanic Shannon r

Alndyke Alina (b/t)

= hjerte uten bilyd

= Clear heart
Jeg har ført på hvor lenge jeg vet / har kilder for at forfedrene har vært hjertefriske. Noen har nok vært hjertefriske mye lengre, men jeg har ingen sikre kilder for det. Så dersom noen som leser dette har flere opplysninger, så er jeg veldig takknemlig for å få en mail om det!
I have listed how long I know / have sources that the ancestors have had a clear heart.
Some might have had a clear heart much longer, but I have no sources... So if anyone reading this has more information, I am very grateful to get an e-mail about it!