FLORIAN
Admiral Neilson Vom Paulinenhof
22.12.2006 - 18.03.2019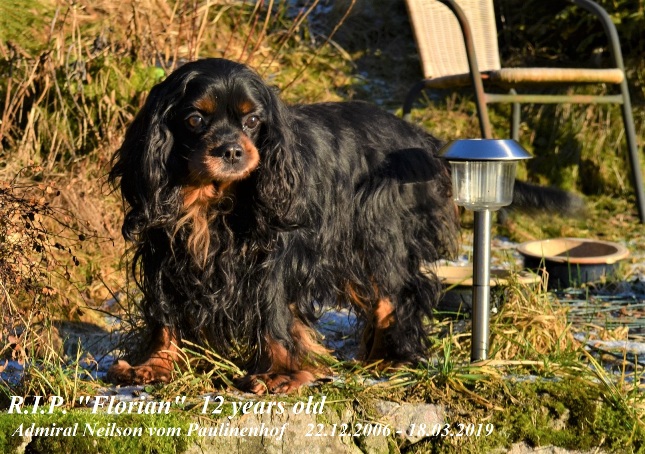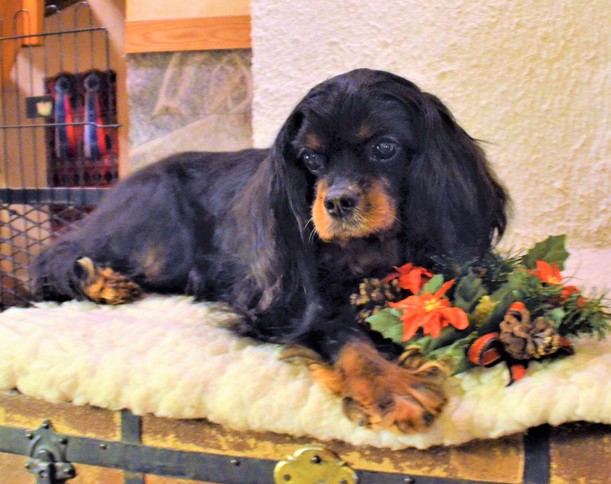 12 år på bildet / 12 years on this picture
Hjerte / Heart: Friskt hjerte 18.01.2016 (9 år) / Clear heart 18.01.2016 (9 years)
Patella: Free 0/0
DNA-testet EF: Fri , CCS: Fri / DNA tested EFS: Clear/ CCS: Clear
Øyelyst / Tested on eyes + MRI
Florian, vår kjære Florian! Denne her karen gir oss sannelig krydder i tilværelsen - han finner på så mye rart hele tiden :) Han er så snill og god, men så forferdelig nysgjerrig, og stikker nesa si borti alt. Til nå har han spist opp mangt og meget, bl.a min manns mobiltelefon og et viktig søknadsskjema som min sønn skulle sende... Men han mener alt så godt, det blir bare så galt. Han er vår "Emil i Lønneberget" :) Ofte når matmor kommer hjem, så blir han så glad at han skal gi meg en "velkomst-gave", så han hopper opp og finner en eller annen pyntegjenstand i hylla, og kommer med den i munnen! Ofte faller "gaven" i gulvet på vi mot meg - og knuses... Og da er vi visst like lei oss begge to ;) Florian er ikke redd for noe, men han er veldig sta. I utstillingsringen hender det at han synes det er ok a gå fint én runde. Men så gidder han bare ikke mer, og er sta som et esel. Godbiter hjelper ingen verdens ting, det eneste som kan få futt på ham er om en tispe med løpetid skulle dukke opp i nærheten - for damer DET liker han ;) Jeg hentet Florian i Tyskland hos familien Junghans da han var 9 måneder, og tilbrakte et par koselige dager hos Heidi, Dieter og Sven. Takk for gjestfriheten :)

Florian, dear Florian! This boy really add spice to our lifes! He is really inventive making up things to do..!. He is so very nice and friendly, but he is extremely curious, and put his nose into almost everything..! He has eaten my husband's cell phone, a very important application form that my son was going to send, and lots of other things :) He doesn't mean any harm.., it just happens :) Florian isn't afraid of anything, but he is very stubborn! In the Show-ring he might walk nicely one round, but then he doesn't bother any more; it's so booooring... Titbits doesn't help anything at all.., the only thing that can make this boy wake up - is if there should be a bitch in heat close to the ring -, because this boy REALLY loves girls :) I went to Germany to get Florian when he was about 9 months, and there I spend two wonderful days with Heidi, Dieter and Sven Junghans. Thank you for your hospitality :)








3 CK, 1 Res.Cert, 1 CERT, 2 x BIR (BOB)-Veteran, 1 x BIM (BOS)-Veteran
7.Mestvinnende Veteran i 2018
Florian på skogstur, nesten 12 år gammel.
nær 2 år / almost 2 years
----------------------------------
18 mnd / 18 mths
22 mnd / 22 mths
---------------------------------------
nær 9 mnd / almost 9 mths
13 mnd / 13 mths
---------------------------------------
Florian og broren Bruno 10 uker.

Florian and his brother Bruno.

Florian 6 mnd / 6 mths Photos by Dieter Junghans
Florians foreldre /Florian's parents:
| | | |
| --- | --- | --- |
| | | |
| JACKO (Blue Magic's Jackomo) | | ANNA (D CH Korraine's Anna Belle) |
Stamtavle / Pedigree
Blue Magic's Jackomo b/t

Clear heart 8 years 9 mths

Elitezuchtrüde im I.C.C Neben den regelmäßigen Gesundheitsuntersuchungen,
die für alle Zuchttiere gelten,
zeichnet der Verein nur ganz besonders geeignete Zuchttiere
mit dem Prädikat ELITEZUCHT aus,
die Anforderungen an die Zuchttiere
ist hier ganz besonders hoch gesetzt

D CH VDH,ICC Quintus vom Rabaukenhof b/t

Clear heart 12 years

Immenhof's Harpo b/t
D CH Bdssg.90 Jgd. Winner Amsterd.90 Gleaming Gold of Worth r
Judyland Dusky Maiden b/t
Kitty vom Rabaukenhof r
Vico vom Rabaukenhof b/t
Coralle vom Rabaukenhof r
Maxima vom Paulinenhof r
Crown Hunter Pik As b/t
D CH VDH, ICC Crown Hunter Dee Jay bl
Weltsiegerin Wien 1996 Int,D CH VDH, ICC FCI Eu CH Choya Betty Boo b/t
D CH Bruna the Roottis r
Zouga Black Gold b/t
Europasieger Portugal Giselle the Empress Refuge r
D CH Korraine's Anna Belle b/t

Clear heart 8 years

Mals Gotcha b/t
Brookmar Midnight Rave b/t
Sanickro Rave On b/t
Rosjestin Star Maiden r
Sanickro Disco Dolly b/t
Leelyn Chagarl r
Sanickro Rochsharna b/t
Korraine's Lucinda r
D CH Korraine's Playboy r
GB CH Myhope Fever r
Korraine's Justine bl
Korraine's Kirsty b/t
Lanola Kavalcade b/t
Korraine's Nutcracker b/t

= hjerte uten bilyd

= Clear heart
Jeg har ført på hvor lenge jeg vet / har kilder for at forfedrene har vært hjertefriske. Noen har nok vært hjertefriske mye lengre, men jeg har ingen sikre kilder for det. Så dersom noen som leser dette har flere opplysninger, så er jeg veldig takknemlig for å få en mail om det!
I have listed how long I know / have sources that the ancestors have had a clear heart. Some might have had a clear heart much longer, but I have no sources... So if anyone reading this has more information, I am very grateful to get an e-mail about it!