MINOU
Liljeskogens Éminent Éclaire
09.05.2004 - 02.02.2015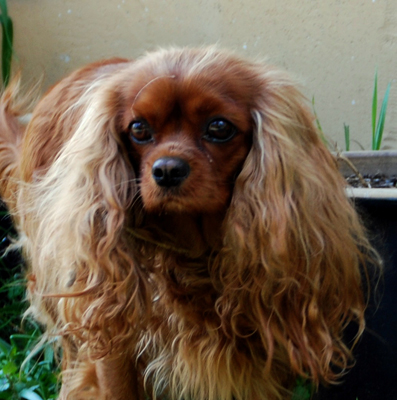 7 år på bildet / 7 years on this picture
Undersøkt / Tested on:

Hjerte / Heart: Friskt hjerte 09.05.2011 (7 år gammel) / Clear heart 09.05.2011 (7 years old)
Patella: Free 0/0
Øyelyst + MR-scannet
Tested on eyes + MRI scan
Minou er ei livlig og ukomplisert jente. Alltid glad og logrende. Hun liker ikke trøbbel, og prøver så godt hun kan å unngå det. Hvis Minou ser noe spennende ute på tur, f. eks et ekorn, så er vi aldri i tvil om hvem som bjeffer; vi sier at Minou bjeffer på fransk; tonefallet går opp på slutten - helt ulikt de andres bjeffing J Minou sin far er fransk - kanskje det er derfor ? J Minou er en helt fantastisk mamma!

Minou has a very uncomplicated personality. She is always happy and wagging her tail. She doesn't like trouble, and does what she can to avoid it. When Minou and the rest of our dogs are outside, and suddenly they see a squirrel, or something else exciting - we never doubt which barking belong to Minou; she got a "French" accent. Minou's father is French, maybe that's the reason?J Minou is an absolutely fabulous mother!












1 x BOS puppy, 3 x BOB Veteran, 2 x BOS Veteran, 6 x CK
8. Mestvinnende Veteran 2012
Minou 5 år / 5 years
-----------------------------
3 år / 3 years
Nesten 5 år / almost 5 years
---------------------------------------
| | |
| --- | --- |
| | |
| 11 mnd / 11 mths | 2 år / 2 years |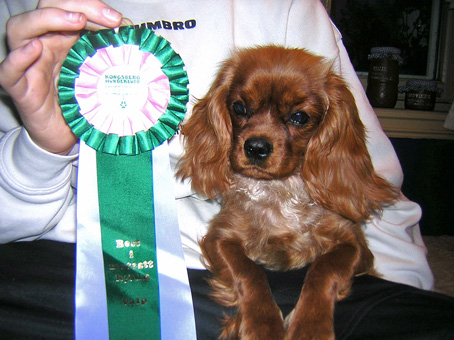 6 mnd BIM-valp i Kongsberg / 6 mths BOS-puppy in Kongsberg
9 uker / 9 weeks
9 uker / 9 weeks
-----------------------------------
OWARD (Oward des Arnuettes)
SALLY (Liljeskogens Autumn Azalea)
Stamtavle / Pedigree
Oward des Arnuettes

r

8 CC in France

Nalou de Carqueville

CH Pamedna Pedro Rosso r

Pamedna Tio Pepe

Pamedna Anastasia

Jennifer des Graffitis de la Lauzeraie

General Du Domaine de la Source Enchantee
Haxelle Of Sharper's

Jola des Arnuettes

CH Pamedna Pedro Rosso r

Pamedna Tio Pepe
Pamedna Anastasia

Hophelie des Arnuettes

Flash De Norlys
Fenzie Du Bouverdry

Liljeskogens Autumn Azalea r

8 years 6 mths

Tibama's Impulsive Infanto r 7 years 10 mths

Harana Ain't Misbehavin' b/t 9 years

GB CH Fontelania Dancing Brave r
Harana Makin' Whoopee b/t

N S CH Tibama's Adorable Alice r 6 years 10 mths

N UCH Javita Royal Gesture Of Deltika bl
Rybergets Jewel b/t 7 years 8 mths

Atti's Candy Sweet As Sugar r 10 years

Nocturnes Iglesias b/t 8 years

Nocturnes Kontrabas b/t 11 years
Immenhof's Song Of Joy r 6 years

Atti's Marita Super Madame b/t 8 years 3 mths

Rybergets David Freetain b/t
Engeråsen's Daniella r 8 years

= hjerte uten bilyd

= Clear heart
Jeg har ført på hvor lenge jeg vet / har kilder for at forfedrene har vært hjertefriske. Noen har nok vært hjertefriske mye lengre, men jeg har ingen sikre kilder for det. Så dersom noen som leser dette har flere opplysninger, så er jeg veldig takknemlig for å få en mail om det!
I have listed how long I know / have sources that the ancestors have had a clear heart.
Some might have had a clear heart much longer, but I have no sources... So if anyone reading this has more information, I am very grateful to get an e-mail about it!