OLA
Liljeskogens Dream O'Dewberry
29.02.2004 - 11.03.2016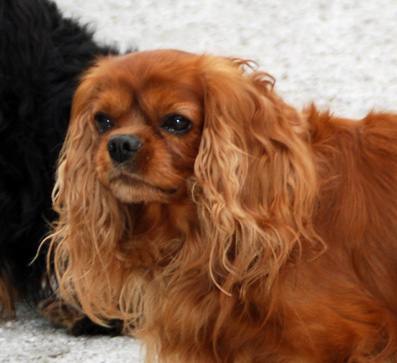 9 år på bildet / 9 years on this picture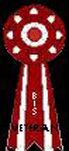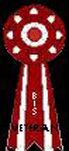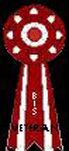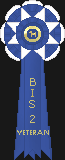 NKK
3 x Best In Show Veteran (2 x Cavalierutstillinger + 1 x alle raser), 1 x BIS-2 Veteran, 7 x BOB (BIR) Veteran, 1 x BOS (BIM) Veteran, 2 x Cert (CC/CAC), 3 x Res.Cert (1 fra NKK), 8 x CK
7. Mestvinnende Veteran 2015
6. Mestvinnende Veteran 2013
Undersøkt / Tested on:

Hjerte / Heart: Friskt hjerte 01.03.2012 (8 år) / Clear heart 01.03.2012 (8 years)
Patella: Free 0/0
Øyelyst + DNA-testet EF/CCS
Tested on eyes + DNA tested EF/CCS
MRI-scannet (CM/SM): Kan ikke sette kode pga at han ble scannet da de forrige eierne hadde ham, og da ble ikke den vanlige protokoll for scanning fulgt, derfor ble det tatt med for kort del av det cervicale området, men det ble i tillegg tatt MR av lumbar-regionen. Det som vises på MR-bildene var i orden.
- DNA-testet for EF/CCS
Ola hette egentlig "Balder", men etter å ha vært i et "foreløpig hjem" med mange unger som ropte: "Balder, Balder, Balder" hele dagen, så vil han ikke høre det navnet! Så nå heter han altså "Ola" oppkalt etter "Husets herre" i det hjemmet han egentlig har bodd i! "Ola" kom tilbake til oss nesten 4 år gammel pga at eierne hans fikk en baby som var veldig allergisk. Men vi er veldig glade for å ha denne flotte gutten tilbake her! Ola er rolig og "kongelig" og tok med største selvfølge "sjefsstolen" her i huset!

Ola came back to us almost 4 years old, because the couple who owned him, got a baby who was very allergic... "Ola" is a lovely, calm boy with a lot of "royal" dignity! As the most natural thing in the world, he already at his first day here found his place in the "Boss' chair"!
| | |
| --- | --- |
| | |
| Ola 11 år og 9 mnd / 11 years + 9 mths | Ola 12 år gammel på bildet / 12 years old on this picture |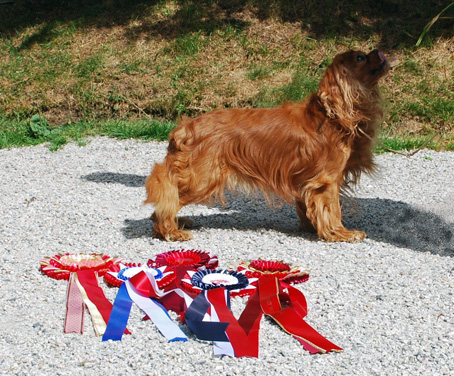 "Ola's great weekend 26.-28/7-2013: 2 x BOB Veteran, 2 x CC (CAC) & 1 x BEST IN SHOW VETERAN (all breeds)! He is 9,5 years old!
| | | |
| --- | --- | --- |
| | | |
| April - 2008 | April - 2008 | 4 år og 10 måneder på bildet / 4 years and 10 mths on this picture |
--------------------------------------
nær 4 år / almost 4 year
---------------------------------------
Ola med mor og søsken /

Ola together with his mother, brother and sisters

8 uker / 8 week
Olas foreldre / Ola's parents:
TIMON (Tibama's Dream O'Timon)
RYLLIS (Liljeskogens Autumn Amaryllis)
Stamtavle / Pedigree
Tibama's Dream O'Timon

b/t

5 years

N UCH Homerbrent Perry

r 7 years

Homerbrent Paprika Of Clovisca

Holl CH Homerbrent Lowena Quizzical

Homerbrent Pueblo Of Clovisca
Homerbrent Olivia
NZ CH Homerbrent Obsession
Homerbrent Yaqai

N UCH Tibama's Highland Judith

b/t 6 years 6 mths

Lewisisle Highland Norsmann b/t 4 years 8 mths

Vizair Of Sundown Kid

Lewisisle Highland Skye
Ryberget's Jewel b/t 7 years 8 mths
N S UCH Sorata Frank 6 years
Sorata Rosetta

Liljeskogens Autumn Amaryllis

ruby

7 years 4 mths

Tibama's Impulsive Infanto r

7 years 10 mths

Harana Ain't Misbehavin' b/t 10 years

GB CH Fontelania Dancing Brave

Harana Makin' Whoopee
N S UCH Tibama's Adorable Alice r 6 years 10 mths
N UCH Javita Royal Gesture Of Deltika
Rybergets Jewel b/t 7 years 8 mths

Atti's Candy Sweet As Sugar r

10 years

Nocturnes Iglesias b/t 8 years

Nocturnes Kontrabas b/t 11 years

Immenhof's Song Of Joy r 8 years
Atti's Marita Super Madame b/t 8 years 3 mths
Rybergets David Freetain b/t
Engeråsen's Daniella r 8 years

= hjerte uten bilyd

= Clear heart
Jeg har ført på hvor lenge jeg vet / har kilder for at forfedrene har vært hjertefriske. Noen har nok vært hjertefriske mye lengre, men jeg har ingen sikre kilder for det. Så dersom noen som leser dette har flere opplysninger, så er jeg veldig takknemlig for å få en mail om det!
I have listed how long I know / have sources that the ancestors have had a clear heart. Some might have had a clear heart much longer, but I have no sources... So if anyone reading this has more information, I am very grateful to get an e-mail about it!